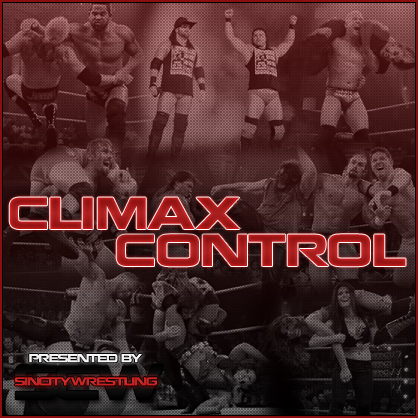 SCW CLIMAX CONTROL
DATE: Sunday - 01/29/2023
Deadlines:
RP Deadline:
United States: 11:59pm EST Friday 01/27/2023
England: 04:59am Saturday 01/28/2023
RP NOTE: One RP per character
RP WORD LIMITS:
Singles Matches: 7k per character
Tag Team Matches: 5k per Team member
Locale: Irvine, CA - Bren Events Center
---
Inception VI has come and gone and along with it, new championship reigns have begun and new careers established! Before the first Supercard event of the year had even happened, "Hot Stuff" Mark Ward had signed over SEVEN new and former stars to the dotted line, showcasing WHY Sin City Wrestling is the place to be! Thus, the first Climax Control of 2023 is hereby crowned as…

---
There are not one but TWO brand new World Champions here in SCW as the Golden Couple of Mac Bane - now a four-time Heavyweight Champion and Amber Ryan - a two-time World Bombshell Champion, have regained their gold and tonight they BOTH open the show by establishing their respective reigns!
---
SINGLES MATCH
LUNA VANITY vs DAWN WARREN
Luna Vanity first made her presence known at the side of the Internet Champion Alexander Raven at Inception VI and tonight she officially begins her own in-ring career as a SCW Bombshell by going up against a young lady with an established family line in the sport - Dawn Warren!
---
MIXED TAG TEAM MATCH
O'MALLEY and DARCY vs THE TROLL and KATHERINE "KITTY" LYTTER
The match that SHOULD have happened but did NOT at Inception VI! The Troll maintains to this day that he was the victim of an attack by O'Malley and thus was unable to take part in the scheduled mixed tag team match. Well, Christian Underwood discovered just how full of it the man really was and now he has rescheduled that match for tonight in Irvine - and he has mandated that if the Troll tries to get out of it in ANY way - there will be dire repercussions!
---
SINGLES MATCH
KIM PAIN vs CYNDY HASLEY
Two more brand new Bombshells face off against one another in singles competition, each one eager to establish their dominance not just over each other - but also against the entire division and make it their own! Kim Pain already has a reputation inside of the ring, so it should be very interesting to see what she can accomplish against another woman with a vaunted reputation such as Cyndy Hasley!
---
SINGLES MATCH
ALEX RUSH vs MALACHI
Malachi is BACK! Yes, the man that could give Fenris a run for his money as the angriest Superstar in SCW has officially resigned and now calls SCW home! The father-to-be is looking to achieve the same successes that he had accomplished all across the world, and his first test is against a former multi-time champion in Sin City Underground - Alex Rush!
---
SINGLES MATCH - #1 CHALLENGER - ROULETTE RULES
EAVAN MALONEY vs JESSIE SALCO
GUEST COMMENTATOR: CRYSTAL ZDUNICH
The very moment that Crystal Zdunich won the Roulette Championship at Inception VI by the skin of her teeth, the vultures started to swoop in! Many a woman now target Crystal, wanting to be the one to knock her down a peg or two but two women spoke up louder than any; a former champion in her own right - Jessie Salco! And brand new signee and Crystal's own sister-in-law - Eavan Maloney! Eavan's claim ruffled a number of feathers as she has not even had a singles match as of yet, but she is quite capable of knocking Salco off and doing exactly what she has claimed! So tonight the bosses have signed the two to face one another to see just who gets to challenge Crystal first for the gold!
Oh and newsflash! The champion herself will be seated on commentary!
---
SINGLES MATCH
AUSTIN JAMES MERCER vs CALVIN HARRIS
Former two-time World Heavyweight Champion Calvin Harris is back in Sin City Wrestling and along with him comes his uncle, the much reviled Michael Harris! But while Michael is going to be struggling to even remain employed after his attack on "Stoner" Scott Oliver, Calvin finds himself in his first singles match in SCW in many t=years when he faces none other than another former champion in Austin James Mercer! When rumors swirled about Harris's first opponent back, Austin practically shoved his way to the forefront to be the first to "welcome back" this controversial figure! These two established stars are going to certainly put on a clinic!
---
And in the MAIN EVENT...
SINGLES MATCH - GRUDGE MATCH
"BULLDOG" BILL BARNHART vs HELLUVA BOTTOM CARTER
"Bulldog" Bill Barnhart may not be the Roulette Champion any longer, but because of his and Bea's own actions that does not make him any less of a target. When Miles Kasey held the Roulette title, the Bulldog made it clear he believed Kasey's challenger and erstwhile admirer HBCarter threw the match the two had against one another. This claim angered Carter, himself a holder of many titles during his time in SCU. Now Carter had made it clear he wanted to be the one to end Barnhart's reign but Main eventing Climax Control against a man like Bill Barnhart will have to be a consolation prize! It's a battle of wrestling generations when the successful young star goes up against a veritable legend in the ring!
Tune in to see all this and so much more as we bring you SCW Climax Control!
CARD SUBJECT TO CHANGE