The SCW in accordance with Generation-X Entertainment is proud to present...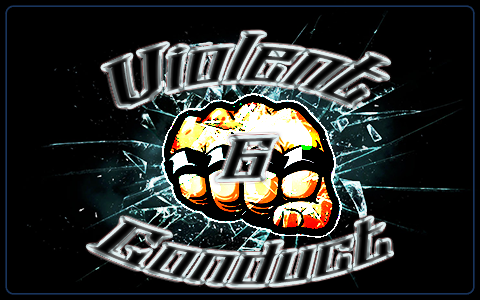 ---
DATE: 09/27/2020
Deadlines:
First RP Period Deadline:
United States: 11:59pm EST Saturday 09/19/2020
England: 04:59am Sunday 09/20/2020
Second RP Period Deadline:
United States: 11:59pm EST Friday 09/25/2020
England: 04:59am Saturday 09/26/2020
SINGLES RP NOTES: One RP per character minimum
Two RPs per character maximum
One RP per RP period allowed
10k word limit per RP
ALL TAG TEAM RP NOTES:
One RP per team member per RP period
5k word limit per RP
Locale: Las Vegas, Nevada - The Colosseum at Caesars Palace

---
It's here -- FINALLY! The most XXXTREME event of the year! VIOLENT CONDUCT VI! Fifteen matches sanctioned by SCW, and four by SCU! And several of those matches have special stipulations befitting an event such as this! And as for the Roulette title matches? The wheel has been changed up, just for this event alone! And every stipulation on the wheel goes to the extreme where violence is concerned! Every. Single. One! There is a reason why this event is only held once a year! The Superstars and Bombshells couldn't handle it any more than that!
---
Violent Conduct VI will be broadcast free on the Armed Forces Network for all the brave men and women around the world, defending our freedom!
---
BOMBSHELL ROULETTE CHAMPIONSHIP
SELEANA ZDUNICH (c) vs JOHANNA KRIEGER
The name of Seleana's challenger was unknown to all, even the SCW brass, until this past edition of Climax Control when Johanna Krieger outlasted two other Bombshells in a Triple Threat match to emerge as Seleana's challenger! Now these two fight one another for the title and god knows what stip the roulette wheel will fall upon!
---
SCU COMBAT CHAMPIONSHIP - BOXING
MERLOT AYANO (c) vs CORDELIA CLARK/VIRGINIA MAE PUTNAM
Tonight on Underground Ep. 72, Cordelia Clark goes one on one with Virginia Mae Putnam to determine who will go on to Violent Conduct to challenge Merlot Ayano for the SCU Combat Championship in a 3 Round, 3 Minute Boxing Match. Merlot has been a dominant Combat Champion since winning the title, and she is ready to continue that streak, but with the possibility of facing an undefeated up and comer, or someone as relentless as Ginny Mae, will she finally meet her match?
---
FATAL FOURWAY - ROULETTE RULES
STEPHEN CALLAWAY vs AGUSTINO ROMANO vs MAC BANE vs LACHLAN KANE
What would Violent Conduct be without a Fatal Fourway match to set loose with the chaos! Well that's what we have here tonight when four young and hungry Superstars battle where the first man to score the victory walks away the winner! Lachlan Kane! The debut of Mac Bane! Stephen Callaway! And Agustino Romano! And to make matters even more thrilling? This match will be contested under roulette rules, meaning a spin of that dreaded roulette wheel!
---
ROULETTE CHAMPIONSHIP
O'MALLEY (c) vs MILES KASEY
This title defense has been brewing ever since the last Supercard of 2020, Summer XXXTreme VIII, when Miles Kasey won the right to challenge for the gold at the expense of two other men! Miles has been waiting for this opportunity anxiously, but the man he must face will not be dethroned so easily, even if he is pulling double duty as both Roulette and SCU Underground Champion; O'Malley! O'Malley takes great pride in being a double champion, and he looks to keep his reign continuing for as long as possible!
---
SINGLES MATCH
KATE STEELE vs COURTNEY PIERCE
Kate Steele is looking to take young Courtney Pierce under her wing and "mentor" the young Bombshell. Our question is -- why? Courtney has already proven herself capable of great success, as she IS the co-winner of the 2018 Blast From the Past tournament alongside Fenris! Of course, with Kate's wealth of experience, Courtney could have much to learn. but before Kate can take her under her wing, she is going to first take her to task in this "teacher vs. student" encounter.
---
SCU COMBAT CHAMPIONSHIP - SIN CITY BRAWL
STEWART MASON (c) vs EYESNSANE
Stewart Mason has defended the SCU Combat Championship with pride. He has taken every challenger to come his way very seriously. He has not underestimated a single competitor, and has prepared for them all. However, will the FoShan trained in-ring assassin, Eyesnsane, be easy to train for? Not at all. Now that his ring rust has been knocked off, Stewart will be in for his toughest challenge yet. And in a Sin City Brawl, where there are no disqualification, no ropes, and no way to win other than knocking your opponent out of the ring, the object is to remain the King of the Hill, or make your opponent tap to win.
---
MIXED TAG TEAM MATCH
TRENTON TIGERS vs THE BARNHARTS
The mixed tag team division is as hot as ever, and with some rumored names being thrown around, promises to get even hotter! This match could determine the next challengers for the World Champions, no matter who walks away with the titles later this evening when the husband and wife duo of Bea and "Bulldog" Bill Barnhart team once again, but this time they don't know exactly who they will be facing as they are up against the 'Freebirds' team of the Trenton Tigers!
---
SINGLES MATCH
MERCEDES VARGAS vs PANDORA BARRETT
Pandora Barrett was impressive with her big win over Apple Coren, but if she thinks that win has prepared her for what she is set to face in the future, she has another thing coming because at Violent Conduct VI, Pandora faces the best of the best! Miss SCW herself - Mercedes Vargas! Mercedes is a future Hall of Famer, a Grand Slam Champion and one of the most celebrated stars in SCW history! Pandora has a lot to be concerned about going into the six-sided ring with this one!
---
GRIME WORLD NIGHTMARE CHAMPIONSHIP
MAX BURKE (c) vs TBD
Max Burke has been one of the most vocal champions in SCU/GRIME. Since his unmasking as Abaddon, he has been on a tear. He has taken down challengers left and right, and established himself as the top star of GRIME. One of the perks is getting to headline the SCU/GRIME Violent Conduct lineup. The question is: Who deserves the spot next to Max Burke's name? Gianni Di Luca will have to make the call, as he says no one has stuck out in his mind to step up to Max. However, rumor has it that Max has a few words to say on the matter. Hopefully he chooses his words wisely, as his title is on the line, and who knows what hellish playground the GM will have in mind?
---
SINGLES MATCH
CANDY vs SIN
Now THIS is a twist! We all thought Keira Fisher-Johnson was set to face her good friend Candy in a friendly and competitive match, but something happened along the way and Keira's name got erased from the contract and was replaced with -- Sin! You heard right! Keira's "worse half" is now going to appear at Violent Conduct VI to face the very woman she hospitalized less than three weeks ago! Keira had best be in the building to keep a close eye on this one!
---
WORLD MIXED TAG TEAM CHAMPIONSHIP
SASS n BASH (c) vs THE BLACK SHEEP
This title match was a mere formality, and Kris Ryans didn't even have to use up his Championship Contract in order to secure it! He and his friend Mikah worked their way from the bottom to the top, and at the top is none other than the reigning World Mixed Tag Team Champions; Sass n Bash! Malachi and Bella Madison fulfilled all of their dreams together when they dethroned the dominant Wolfslair to secure the titles for themselves, but now they face the Black Sheep in a challenging defense!
---
SINGLES MATCH - TNA's RETIREMENT
TRAVIS NATHANIEL ANDREWS vs BEN JORDAN
It's been quite awhile since we've seen Travis Nathaniel Andrews in an SCW ring, and this will be -- the final time. yes, Travis has decided to OFFICIALLY hang up his boots and step into retirement, but he asked for one last match against a man he has the utmost respect for -- and who is more respected than "The Cockney King" Ben Jordan? The former World Champion and one of the most popular stars in SCW history, Ben helps a fellow colleague step into retirement. No matter who wins or loses, the fans will definitely win with this one!
---
BOMBSHELL INTERNET CHAMPIONSHIP
MYRA RIVERS (c) vs SAMANTHA MARLOWE
Sammi Marlowe is back in the title picture! When challengers were being discussed for Myra Rivers and her Internet gold, Samantha stepped up and laid forth her name, challenging the champion then and there! And Myra, being a fighting champion, was only to happy to accept such an enthusiastic challenge! This match could easily steal the entire show, as two of the best singles stars go at it with a title at stake, and maybe a touch of reputation.
---
GRUDGE MATCH - FALLS COUNT ANYWHERE
AMBER RYANS vs ROXI JOHNSON
The war between these two Bombshells has been raging on for weeks! At Summer XXXTreme VIII, it was Amber Ryans who scored the stunning win over the great Roxi Johnson. But now we have Roxi vs Amber II, and this time there are no limits to where these two hellcats can take the fight because they are facing off in a Falls Count Anywhere match! And not JUST at Caesar's palace! Anywhere in the city limits of Las Vegas! And who knows with these two!? Maybe even beyond!
---
SINGLES MATCH - CHAMBER OF EXTREME
JESSIE SALCO vs MAKI
If there was ever a match that was a more fitting poster child for Violent Conduct, this may very well be it! It's been no secret that the frightening Bombshell Maki has gotten under the skin of Jessie Salco, instilling a fear the likes Jessie has never felt before! But now Jessie is making a stand for herself, and she is meeting the ghastly Maki face to face -- in all things -- a Chamber of Extreme event! An 8-feet-high steel cage which surrounds the ringside area with the top wrapped in barbed wire and "extreme" weapons scattered around the ring and ringside area. Disqualifications, count-outs and rope-breaks do not apply. The winner shall be decided by pinfall, submission or being unable to stand up at 10-count!
---
SCU UNDERGROUND CHAMPIONSHIP
O'MALLEY vs FATHER GERALD SHEPARD
Father Gerald has been calling out O'Malley for not being a present champion, being a coward, and a bad dad. Last week, O'Malley accepted the challenge, and the chance to make Gerald eat those words. And what better way to do that than to serve it cold at Violent Conduct. O'Malley and Gerald will be forced to agree on one thing though; the type of match they will be competing in. Expect news on this later tonight on Underground Ep. 72. And get ready to see one of the most personal fights we've seen in a very long time.
---
INTERNET CHAMPIONSHIP - TRIPLE THREAT
TEDDY STEELE-WARREN (c) vs SENOR VINNIE vs CALEB STORMS
At first this was to be a return match between the new Internet Champion Teddy Steele-Warren and the man he defeated for the gold, Senor Vinnie! But Caleb Storms made a bid when Vinnie made his open challenge, and now thanks to a win this past Climax Control, Caleb gets his wish and he has been inserted into the match, making this one on one to be a Triple Threat! The first man to score the pinfall or submission will be the champion!
---
WORLD HEAVYWEIGHT CHAMPIONSHIP
ALEX JONES (c) vs JACK WASHINGTON
Alex Jones shocked the world when he ended the World title reign of Griffin Hawkins at a mere thirteen days, but there is no rest for the wicked, because Alex's first Supercard challenger had been decided long before that title change even happened! Jack Washington gave then-champion Ben Jordan the fight of his life, and Jack lost by technicality when he passed out in Crossing Jordan. That made the bosses feel jack deserved another shot at the gold, and this time the young upstart faces the ring-wise veteran Alex Jones with the World Heavyweight title at stake between them! The Veteran versus the Young Lion! Winner take all!
---
And in the MAIN EVENT...
WORLD BOMBSHELL CHAMPIONSHIP - 30 MINUTE IRON-WOMAN MATCH
EVIE JORDAN (c) vs ALICIA LUKAS
The in-ring rivalry between World Champion Evie Jordan and the former champion, Alicia Lukas, has been making the Bombshell division of SCW on the lips of every fan of this sport! Current champion versus Past champion! And Alicia came out on top of a nine woman Battle Royal to earn this chance once again at the gold she wants to once again call her own! But Evie has never been an easy foe to defeat, just ask Alicia! Both of these women hold a singles victory over the other, making this the proverbial "rubber match." But to ensure that this final match between the two has no room left for doubt, they will be competing in a Thirty Minute iron-Woman match! The Bombshell that scores the most wins in that allotted thirty minutes will walk away as the World Champion!
Tune in to see all this and so much more as we bring you VIOLENT CONDUCT VI!