Supercard
The SCW in accordance with Generation-X Entertainment is proud to present...
---
DATE: 11/11/2018
Deadlines:
First RP Period Deadline:
United States: 11:59pm EST Saturday 11/03/2018
England: 03:59am Sunday 11/04/2018
Second RP Period Deadline:
United States: 11:59pm EST Friday 11/09/2018
England: 03:59am Saturday 11/10/2018
RP NOTES: One RP per character minimum
Two RPs per character maximum
One RP per RP period allowed
10k word limit per RP
MIXED TAG TEAM RP NOTES:
One RP per team member per RP period
4k word limit per RP
Locale: Tucson, AZ - Tucson Expo Center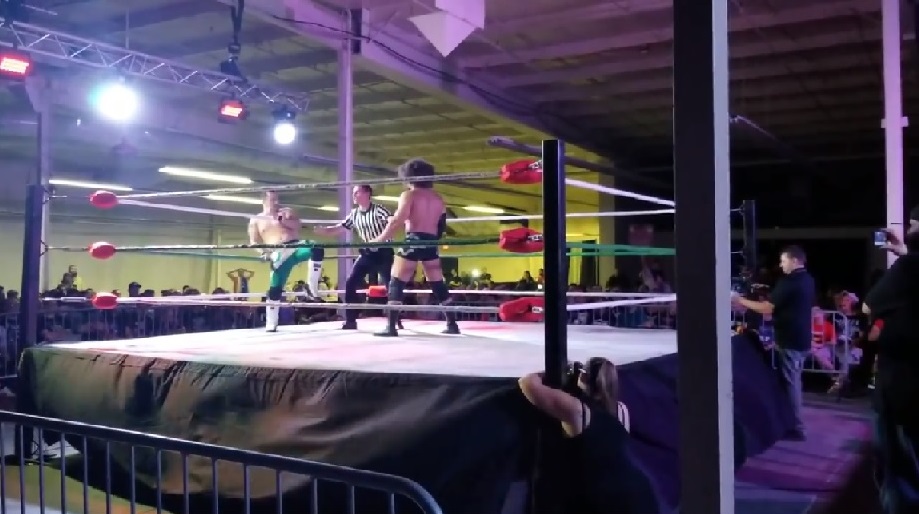 ---
The grandest event of the year has arrived, the biggest spectacular for Sin City Wrestling; the EIGHTH annual High Stakes Supercard event! And when we say biggest, we are not blowing smoke up your corn chutes folks! Because this year, for the first time ever -- the championships of Honor and SCU will be showcased thanks in part to the business merger that has had heads rolling since it was first announced! Not only will there buy THIRTEEN huge matches from top to bottom, but also the Class of 2018 Hall of Fame will take place and the winners of the 2018 Year End Awards will as well!
High Stakes VIII will be broadcast free on the Armed Forces Network for all the brave men and women around the world, defending our freedom!
---
SCU HARDCORE TAG TEAM CHAMPIONSHIP
KAWAII DRAGONS (Winter Elemental and Tatsu) vs THE RUIN SISTERS (Debbi and Stacy)
One of the most coveted prizes in tag team wrestling will open things up as the newly christened SCU Hardcore Tag Team Champions, the Kawaii Dragons, will put their championships on the line, defending against the one team that has the most likely chances of dethroning them, the infamous Ruin Sisters!
---
COMBAT CHAMPIONSHIP FINALS - MEN
TBD vs TBD
New championships for SCU, the Combat Championships, will be decided at this historic event! The matches to determine to finalists will take place at the pre-show!
---
COMBAT CHAMPIONSHIP FINALS - WOMEN
TBD vs TBD
New championships for SCU, the Combat Championships, will be decided at this historic event! The matches to determine to finalists will take place at the pre-show!
---
LEGACY WOMEN'S CHAMPIONSHIP - NO HOLDS BARRED
JESSIE SALCO (c) vs ELLA SINGLETON
The ongoing rivalry between Legacy Champion Jessie Salco and her perennial contender Ella Singleton shows no signs of simmering down. In fact, if anything, things are only getting more intense between the two because although she suffered a recent defeat to the champ on Climax Control, Ella has challenged the champion Jessie to ONE MORE match, this time with higher stakes as it is to be contested under No Holds Barred rules! On other words, NO RULES!
---
SINGLES MATCH
SIENNA ZDUNICH vs CAT RILEY
Cat Riley is used to getting what she wants, but the desire to have another match against Kate Steele at High Stakes VIII and "end her" was not meant to be as Crystal stated if this happened, then she would simply leave. So in punishment for Crystal's hubris, Christian Underwood has instead given Cat the next best thing; Crystal's fiance Seleana Zdunich in a match that could very well steal the show! Cat has nine lives but Seleana has all the tools to use all nine up in one fell swoop!
---
WORLD MIXED TAG TEAM CHAMPIONSHIP
KAIN and MERCEDCES VARGAS (c) vs SIERRA WILLIAMS and LACHLAN LANE
Kain and Mercedes have been dominant as the only two-time World Mixed Tag Team Champions, but the recent arrival of Honor and Divisions stars, Sierra Williams and Lachlan Lane, have showed a vulnerability toward the champions as they were defeated in non-title action at last week's Climax Control! Now as GM Brooke Saxon promised, due in part to that victory, Lachlan and Sierra will face the champions once again, and this time, the titles are up for grabs!
---
BOMBSHELL ROULETTE CHAMPIONSHIP
EVIE BAANG (c) vs SAMANTHA MARLOWE
There are times when championships being on the line do not make things any easier than the feelings behind the combatants of the match! never before was that more true than this Bombshell Roulette Championship defense when Evie Baang puts her title on the line against the Number One Challenger, Sam Marlowe! The factor between the two? Evie's husband, Ben Jordan, is also the close and personal friend of Sam! Can personal feelings be cast aside for this title match, or will they be embraced and used to their advantage?
---
HONOR WOMEN'S CHAMPIONSHIP - FATAL FOURWAY
ALICIA LUKAS (c) vs WINTER ELEMENTAL vs TRINITY JONES vs BRITTANY WILLIAMS
Alicia gets herself noticed by sheer talent. She debuted calling out the bombshells of SCW. Brooke knows Alicia fights and fights some more. Mrs No Days off will get that fight. With SCW and Honor sharing the roster. It opens up for Alicia to face new opponents and one old foe. First up Winter, The Hardcore Champion does double duty again, but that is fine by her if it means getting her hands on Alicia Lukas. Then you have SCW's own Trinity Jones, the one person Brooke really wanted to sign with Honor at the start of 2018 but was not able to. and Brittany Williams. Brittany wanted to work for Honor but was one year to young to do so. All she wanted was a shot, after being hired as a ring announcer, she kept training and found herself working for SCW. Brooke will now give Brittany that shot she always wanted. She faces Alicia one of the most talented in Honor, Trinity, a women that Brooke really wanted in Honor and one of the most talented in tag team wrestling, Gift member Winter Elemental.
---
GRUDGE MATCH
CRYSTAL HILTON vs KATE STEELE
The match fans have demanded, and both women have used as leverage against the hierarchy to get what they wanted; their hands around one another's throats! To say these two hate one another is perhaps the biggest understatement of the decade! Kate Steel returned to the scene and ambushed Crystal Hilton, and once crystal returned to get a pound of flesh, Kate retaliated and escalated things further with a cowardly attack on Crystal's daughter, Brittany! When you mess with family, it's one thing, when you mess with a momma bear's daughter, Kate may want to check her life insurance policy because SCW is turning Crystal loose and woe be to Kate if she thinks she'll walk away unscathed! And to give Crystal an even playing field, "Hot Stuff" Mark Ward has BANNED Kate's husband, Teddy, from ringside!
---
HONOR CHAMPIONSHIP
MICKEY CARROLL (c) vs AUSTIN JAMES MERCER
Austin debuted and won the 30 superstar Mayhem Survival. The second ever, the first when by Mercedes Vargas, she used that win to earn herself a Honor Championship and won it. Now Austin hopes to repeat what she did. Austin has been on fire since being signed. During that time, Mickey dethroned Alex Jones and did what most thought could never happen. Mickey retained when Alex had his rematch. Mickey became the champion of the fans ever since. Now these two face off as the man who has yet to be put down since arriving takes on the man who has worked, clawed, and earned the respect of the fans. Both men have been on fire but one will end up hosing down the other.
---
ROULETTE CHAMPIONSHIP - EIGHT MAN WARRIOR'S BRAWL
BEN JORDAN (c) vs SHINJIRO YAMAMOTO vs DMITRI vs TY WEST vs CASEY WILLIAMS vs BLASTED MONK vs CALEB STORMS vs JOSHUA ACQUIN
Ben Jordan has loudly and proudly declared himself a fighting champion, but perhaps his confidence may come back to bite him in the ass, er, arse, this time around because he said he'd defend against all comers here at High Stakes VIII, and damned if the bosses didn't take him up on the offer! General Manager Brooke Saxon has booked Ben in the first-ever Eight Man Warrior's Brawl! While two men begin inside of the ring, the six others wait in chambers, and one by one, they emerge until all hell breaks loose! To the victor goes the spoils, and the SCW Roulette title to boot! If Ben can pull this one off, it will be a miracle indeed!
---
WORLD BOMBSHELL CHAMPIONSHIP - TRIPLE THREAT
DANI WESTON (c) vs APPLE COREN vs AMY SANTINO
Dani Weston wants to prove herself worthy of being the World Bombshell Champion, and has called out any and every woman who wants to step up and believes they can strip her of the gold! The most nefarious name to accept that challenge is none other than the self confident and hated Apple Coren! Apple wasted no time in declaring herself Dani's next challenger, but there is a hitch; Hall of Famer and Grand Slam Champion Amy Santino has objected -- MIGHTI:Y -- at Apple receiving this title opportunity! Especially given how Apple was unable to defeat her a few weeks ago in singles competition! But then again, Amy was unable to defeat Apple too, and that brings in GM Brooke Saxon! Brooke has taken these facts into account and the former singles match is now a Triple Threat as Amy has been added to the equation, making Dani's chances of retaining one in three!
---
And in the Main Event!
WORLD HEAVYWEIGHT CHAMPIONSHIP
FENRIS (c) vs SENOR VINNIE
And we now know just who will be challenging the "White Wolf" aka Fenris for the top prize for the Superstars in Sin City Wrestling, none other than the fast rising newcomer, Senor Vinnie! Vinnie overcame his rookie status and all of the odds, defeating Casey Williams, Caleb Storms, and now Ty West to walk away the winner of the Gold Rush tournament! But now the pressure is on as Vinnie faces the overwhelming task of taking on and DEFEATING the undefeated Fenris for the SCW World Heavyweight Championship! A feat nobody has been able to accomplish thus far!
Tune in to see all this and so much more as we bring you HIGH STAKES VIII!